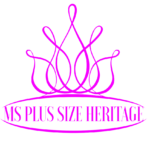 Ms Heritage Plus Pageant is about creating an awareness that every women despite their plus size can be beautiful and a hallmark of success in society. It is a pageant whereby the women will be able to showcase their confidence , talent and beauty at a level that they have never gone before . It will help them to discover their true self and bring up their self-esteem to a level whereby they will feel that they can achieve anything they want to if they set their mind to. Many bigger women may think they are big and therefore have a negative image of themselves hence have a low self esteem. This negative will make them feel that their are less acceptable in society in terms of beauty and looks when compared to their other fellow female sisters. This pageant will put an end to the negativity feeling of not being up to the level of other good looking females . This pageant will make the contestants say "We are simply beautiful"
Heritage Pageants is an ultimate international beauty pageant that endeavours to promote Peace, Environment, Tourism, Culture and above all global Heritage (PETCH) from a global perspective.
Mrs Heritage
Miss Heritage
Teen Heritage
Little Miss Heritage
Ms Heritage Plus
All rights reserved © Pageant Of Heritage | Designed by Insight Technology Pvt Ltd.